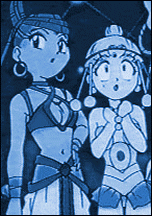 Well, we moved!! Same layout though. -_-;; Aaaahh poo...I was too busy working on updating Feminine and moving everything anyways! Plus, I've been slacking off the Gloom shrine. Don't worry, it'll be open sooner or later..it's just that I dunno if anyone will have interest in it!! ;_; Okiez, well, AGAIN, I would like to thank PQAngels.com for the nice piccie to the left!
information::multimedia::miscellaneous
guestbook::email

Page © to Tiffany on August 26, 1999.
SM is Copyright to it's rightful creator.